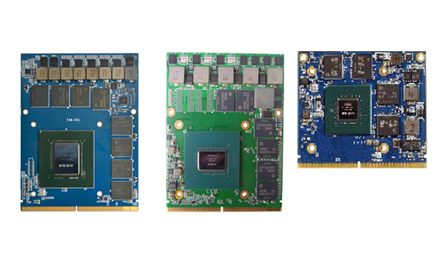 Designed for the needs of embedded, ruggedized, or mobile system builders, these products make Quadro Pascal architecture graphics and compute capabilities available to form factors unsited for traditional PCI Express expansion cards, tolerate wide ranging thermal and other environmental conditions, are ideal for blade or other deployments where high GPU density is an important consideration, offer GPU memory capacity options, extremely reasonable power requirements, and feature flexible display output options.
Rejitek provides unsurpassed service and commitment to its embedded and OEM graphics customers, including extensive pre-sales development and technical consulting by dedicated Quadro Field Application Engineers, access to specialized documentation required for systems integration (e.g. Thermal Design Guides), bug reporting, product lifecycle management information, and much more. For additional information or other product inquiries email: sales@rejitek.com
We provide a wide range of customization options to meet your requirements.
Size or structure
Glass cover surface treatment AG, AF, AR
Anti-shock and anti-vibration.
Metal shell, strong and durable.
Panel brightness(can choice 450nits,700nits,1000nits,1500nits,2000nits)
Dimming knob controls backlight brightness from nearly 0% to 100%
Display ports(can choice VGA,DVI,HDMI,DP or more)
Mounting:Open framre, Panel Mount, Rack, chassis, and VESA.